Venue Location
The 6th International Archean Symposium will be hosted at the University Club and the Octagon Theatre at the University of Western Australia.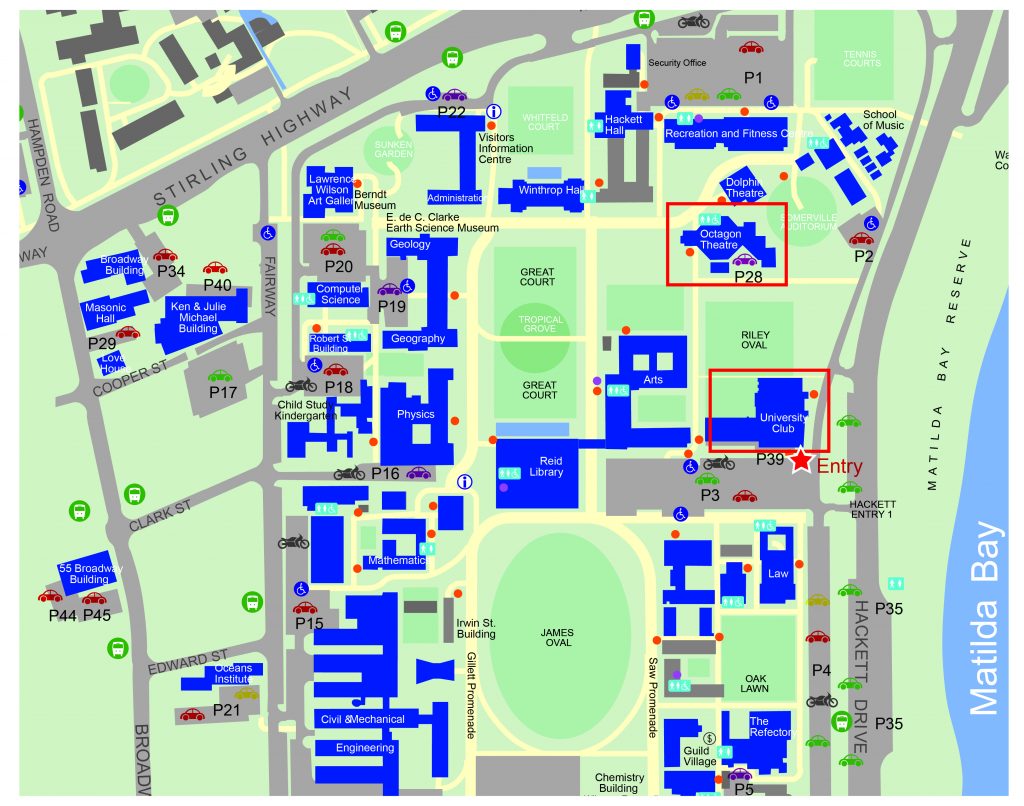 The University Club
The University Club of Western Australia is located on Hackett Drive in Crawley, just an 8 minute drive from Perth CBD on the stunning, landscaped grounds of WA's oldest university. Since opening its doors in 2005, the Club's award-winning cuisine, impeccable service and enviable riverside location have earned it a reputation as one of Perth's premier conference and event venues.
As a guest of the Club, delegates attending the conference will have temporary access to the Club's Café and Bar, which is normally reserved for members. So if you arrive early, feel free to purchase a barista coffee, maybe some breakfast and relax with a newspaper. Likewise, feel free to stop off at the bar after the conference for a refreshing drink.
Transport
There are a range of transport options including public transport, taxi, ride share and parking facilities to get to the conference venue. Maps and public transport information can be found below.
You can reach the conference venue via the 950 bus, which runs from Morley Bus Station, through the City and along Mounts Bay Road to the University. If taking an Uber or taxi, please let the driver know that you are going to Hackett Entrance 1, Hackett Drive (as guests are often mistakenly dropped off at the Forrest Hall building across the road). If you are driving, there is pay-and-display parking along Hackett Drive and in all of the car parks marked with a green symbol on the attached map. As these machines only accept coins at this point in time, it is advisable to bring change with you.
In addition, full-day parking will be available in car park 3, immediately adjacent to the Club) at a cost of $15.00 per day. You can purchase a blue parking permit from the parking attendant on duty. Please be sure to display this permit on your dashboard, and to park in the designated bays (and not in the red permit section). Without a blue permit, there is a 3 hour limit in this car park.
Accommodation
We encourage conference participants to book their accommodation early. There is a range of options located near the conference venue, including hotels, hostels, and limited campus accommodation. The 6ias is not affiliated with any individual hotel or booking service. If you receive a solicited email from an apparent transport or accommodation provider, please treat with suspicion. These are not endorsed by the 6ias and may be a scam.
For a list of hotels, please visit the PCB website or general booking sites such as booking.com.
Limited places are available at Forrest Hall at the University of Western Australia. Information can be found here.
Childcare
The conference has appointed Abracadabra Childcare Service to provide onsite, fully subsidised childcare for 12 children under the age of 6 with a full program of activities for the children of delegates.
To be able to provide the service six registrations will be required. Bookings for the childcare places are open until 1st May. When the minimal number of places is reached we will inform interested parents.
For kids age above 6 years, you can use UWA KIDS HOLIDAY PROGRAM, https://www.sport.uwa.edu.au/social-sport/kids-sport, which is run outside the conference organisation, therefore, enrolment and fee is the responsibility of parents, however, the program is also located at the grounds of the UWA.
Please direct any enquiries to weronika.gorczyk@uwa.edu.au