6ias and Target 2023 registration, field trips and workshops
6ias registration is now FULL! Registration is still open for Target 2023, some workshops and the 6ias Social event!
Please note we have now closed registrations for the 6ias event as we have reached venue capacity. If you would still like to register, please email info@6ias.org to add your name to the waiting list. We will contact you if a place becomes available. Below is a breakdown of the 6ias and Target 2023 registration types and fees, as well as the newly announced pre- and post-conference workshops. We are offering special registration prices for members of geological societies. If selecting this type of registration, you will just need to provide the name of the geological society and your membership number. Student registration will also require upload of your student card during registration. All rates are in Australian dollars (AUD$) and inclusive of GST. Field trip costs and the symposium social evening price are listed below.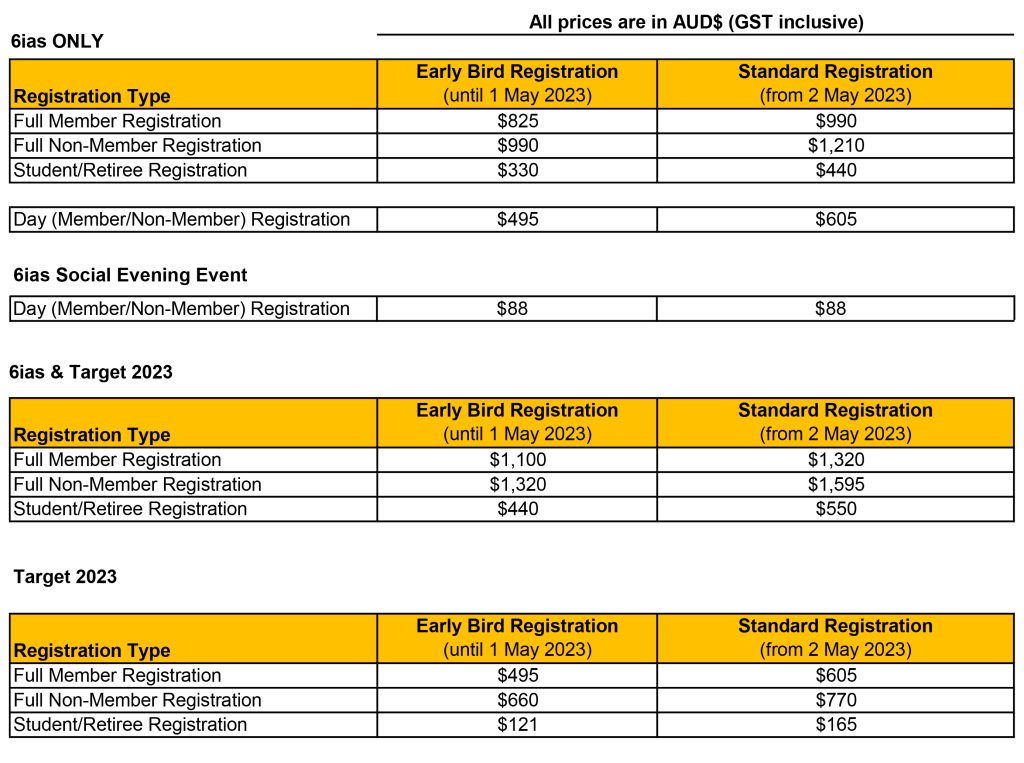 Field trip registration costs
Field trip costs are indicative of the maximum cost to participants and are inclusive of GST. Minor revisions may occur pending event changes and participant numbers. Field trip costs do not include flights or insurance. Please see the field trip descriptions for more information on field trip arrangements and planning.

Workshop registration costs
Registration Terms and Conditions
All registration fees are in Australian dollars and include GST. Early bird registration must be booked and paid for before or on midnight AWST Monday 15 May 2023 for rates to apply. Payment via credit card on the online registration site is the preferred method of payment.
Online payments can be made with either Visa or MasterCard. We are unable to process payment via AMEX. Registrations will be acknowledged in writing to the email address nominated with confirmation of requirements according to the registration form submitted. A tax invoice will be attached to this email. If you have not received a written confirmation within seven days, please contact admin@geoconferences.org.au
All registration cancellations must be received in writing to admin@geoconferences.org.au. Substitutes are welcome.
Event Changes
The Organising Committee reserves the right at any time to:
Change the format, participants, content, location and timing or any other aspect of the event
Postpone any part of the event
Cancel any part of the event, and will not be liable to you for any damages, costs, losses or expenses of any kind incurred or suffered by you in connection with the Organising Committee modifying, postponing or cancelling the event
If any part of the event is cancelled or postponed by the Organising Committee and you are unable to attend the rescheduled event, you are entitled to a refund.
Cancellation Policy
Where permitted, you may cancel all or part of your registration. Notification of cancellation must be made in writing and sent by email to admin@geoconferences.org.au.
If cancellation notification is received:
Cancellation more than 60 days before the event: a full refund, less any administration costs (as reasonably determined by the Organising Committee)
Cancellation less than 60 days and more than 30 days before the event: 80% refund
Cancellation less than 30 days but more than 14 days before the event: 50% refund
Cancellation 14 days or less, no refund
Liability
In the event of industrial disruption or other unforeseen circumstances, the Host, and Organising Committee accept no responsibility for loss of monies incurred by delay or cancellation.
Social Event
When you register you will be asked to nominate if you will be attending the Social Evening Event for an additional fee (to be held at the WA Maritime Museum on the evening of 27 July 2023).
There will be no refunds for the conference social event cancellation. Your ticket may be transferred to another person without penalty.
Insurance
Registration fees do not include insurance. It is strongly recommended that at the time you register for the 6ias or Target 2023 and make your travel booking you take out an insurance policy of your choice. The policy should include:
• Loss of fees/deposit through cancellation of your participation in the 6ias/Target 2023 or through the cancellation of the symposium
• Loss of international/domestic air fares through cancellation for any reason
• Loss of tour monies through cancellation for any reason including airline or related services strikes within Australia
• Failure to utilise tours or pre-booked arrangements due to airline delay
• Force Majeure or any other reason
• Medical expenses (including Covid19, sickness and accident cover)
• Loss or damage to personal property
• Additional expenses and repatriation should travel arrangements have to be altered
• Appropriate coverage for remote areas if registering for 6ias field trips
The 6ias Organising Committee and Geoconferences cannot take any responsibility for any participant failing to arrange their own insurance. This insurance is to be purchased in your country of origin.