FT1 – Pilbara Craton: evolving Archean tectonic styles (July 17 – 23) – NB This field trip is now FULL
(Guides: Martin Van Kranendonk, Hugh Smithies) A week-long trip across the beautifully exposed Pilbara Craton, investigating two contrasting litho-stratigraphic terranes. This trip will commence with an exploration of the 3.5-3.2 Ga East Pilbara Terrane, with its classic granite dome-and-greenstone keel geometry indicative of "vertical tectonics", and sites with traces of early life. It will then move to the western part of the craton, where we will investigate successions and structures that document a drastically different tectonic style, including an arc complex, and crustal-scale shear zones indicative of terrane accretion.
Participants are responsible for making and paying for their own travel arrangements to the field trip starting point (Port Hedland) and from the endpoint (Karratha). The excursion will leave from Port Hedland at 8:30 AM on Monday the 17th of July and will end in Karratha at around midday on Sunday the 23rd of July. Flights to and from the Pilbara are typically in high demand so we advise participants to book early. The trip cost includes all accommodation (camp bedding, food, tall stories!) which will include 5 nights camping (a chance of a shower on one night) and hotel accommodation on the last night. If there are any specific food requirements please notify us on registration.
Please contact the field trip leaders should you have any queries: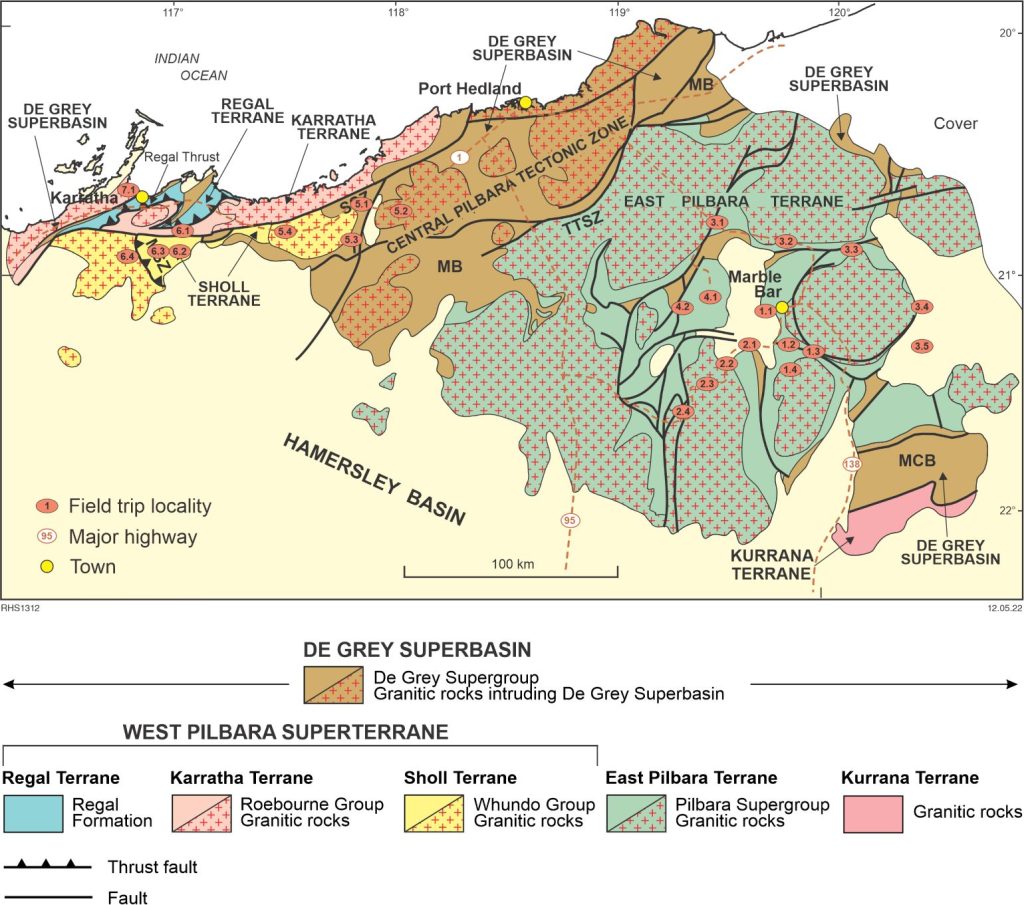 FT2 – Redefining Archean terrane boundaries: A radical update within the Yilgarn Craton (20-23 July)
(Guides: Raphael Quentin de Gromard, Tim Ivanic) The far west and southwest Yilgarn represents perhaps the most geodynamically complex portion of the Yilgarn Craton and has recently become one of Western Australia's prime new exploration frontiers. Recent work by the Geological Survey of Western Australia has proposed that the boundary between the c. 3010–2635 Ma Youanmi Terrane and the c. 2705–2610 Ma South West Terrane of the Archean Yilgarn Craton be relocated approximately 200 km to the southwest along the southwestern deformation front of the newly defined c. 2665–2635 Ma Corrigin Tectonic Zone (CTZ). This three day excursion will visit key exposures of tectonized greenstones and high-grade gneisses in the well-exposed Toodyay-Northam area (about 100 km from Perth). The field sites will be an ideal platform from which to discuss the geological history of the southwest Yilgarn, the rationale for location of the terrane boundary and implications for Au–Cu, Ni–PGE, Ti–V, VMS, and Fe mineral systems.
Participants will depart the Geological Survey in Perth (100 Plain St., E Perth) by bus at 0800 Thursday 20th July 2023. The trip cost includes two nights' accommodation at a motel (inn) and all food. If there are any specific food requirements please notify us on registration.
Please contact the field trip leaders should you have any queries:
raphael.quentindegromard@dmirs.wa.gov.au
Trip cost: AU$ 1,760.00